Monthly Bike Rides through the Everglades
Due to the impact of Hurricane Irma on
Everglades City and surrounding areas,
the monthly bike rides have been suspended.
We hope to begin either in November or December,
depending upon the cleanup efforts in the Everglades City.
Please click on the links below for information about the various rides.
Ave Maria – Immokalee Cycle Tour
Bear Island Cycle Tour in the Big Cypress
Everglades City – Chokoloskee Cycle Tour
Fire Prairie Trail Cycle Tour in the Big Cypress
Marco Island to Everglades City Cycle Tour
Oasis Visitor Center to Shark Valley
Port of the Islands Cycle Tour
There will be no charge for these tours and no SAG support so be prepared: bring your own water/snacks (food may be purchased during or after ride), be responsible for your own bike,  follow the "rules of the road" (click here), wear a helmet, and have FUN!
Email info@evergladesrogg.org for more information
———————————————————–
Annual Everglades Bike Ride a Big Success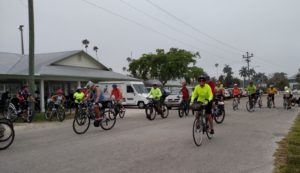 The 10th Annual Everglades Bike Ride on April 2, 2017, was a big success with 177 cyclists participating in three separate rides. There were 70 bicyclists who cycled east on the Tamiami Trail to Kirby Storter Roadside Park in the Big Cypress Preserve, returning to SR29 to ride north to Deep Lake and back to Chokoloskee and Everglades City. Fifty cyclists enjoyed the 27-mile off-road route through the Fakahatchee Strand Preserve State Park while 57 recreational riders toured Everglades City, the Smallwood Store & Museum in Chokoloskee and Plantation Island. Everyone returned to McLeod Park for a buffet lunch catered by Triad Seafood Cafe. We wish to thank all our volunteers, supporters and the Everglades community.
Rather than sponsoring an annual bike ride, FROGG will be organizing monthly rides through the Everglades beginning in September (see above).
Come experience the Everglades !